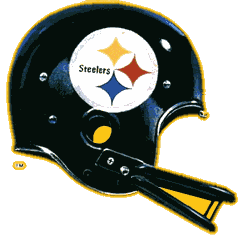 Recognised around the world, everyone knows that the Steelers are the only team in the NFL to wear their logo on just one side of their helmet, but why?
I had read that it was the equipment manager at the time who decided the logo was only going on one side, but here's the official version from the Steelers own web site :
Before the 1962 season the steel companies asked the Steelers if they would be interested in using the steel industry logo on the helmets. The Steelers wanted to make sure they remained loyal to the individual fans and were hesitant to use the logo.
The logo was used on only one side in case it was not received well and recognition would not be as high as using two. Everyone loved the logo and felt it fit the Steelers and the heritage and people of the City of Pittsburgh.
At the end of the 1962 season everyone assumed two emblems would be used for the next year. Dan Rooney decided it would become a distinction from other teams to use only one.
One other note: For the 1962 season the Steelers used gold helmets with a black stripe (and the one emblem). The team made the playoffs that year and painted the helmets black with a gold stripe for the first time. The helmet colors have remained this way ever since.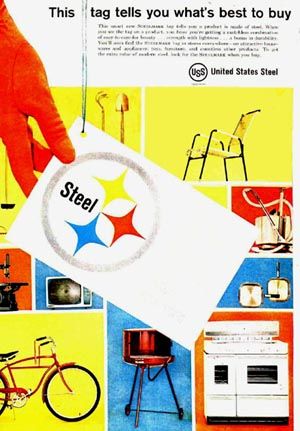 Is this the advert that began a legend? This is a copy of an ad that appeared in Life magazine. I am very grateful to the Steelers UK Supporters member who sent me this photocopy.
It shows the emblem that US Steel were using at the time. It's easy to see just why the Steelers started to use it and in the early days, that was exactly as the logo was - with the word Steel, as opposed to Steelers.
The shapes that are used are normally termed hypocycloids, but be careful. In the words of a maths expert who told Eric UFH-man, who administered Steelref.com:
"Even the term hypocycloid may not adequately describe the figure on the logo, because hypocycloids vary greatly in shape and do not necessarily have four points. A particular hypocycloid that does have four points and looks exactly like the shape on the Steelers emblem is called an ASTROID or TETRACUSPID."
Another great Pittsburgh advertisement for US Steel can be found here.